ModelER3712 Full Automatic Production Line For Transformer Customized
Model:   Browse:1158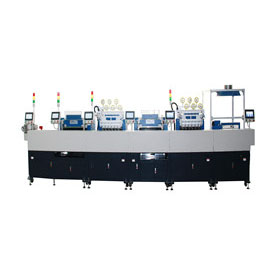 Product Overview:
This production line consist of the feeding machine 、ER3712 12-spindle full automatic winding machine,automatic soldering machine and taping machine. It have many advantage,such as the detect automatic loading bobbin ,loading & uploading bobbin for winding wire and so on. it is applicable for large batch order with high precision and high efficiency.
Machine Features:
1. The material of machine is made of high quality resin sand senior castings,The pedestal welding steel seamless,which can strengthen the bearing,reduce noise / vibration,and improve stability .
2.The key parts of this series take imported leadscrew,guide way,Japan's SMC cylinder 、Samsung belt,Japan's Keyence optical fiber sensor and so on,other key parts are imported.
3. Japan NSK high speed bearings,as the AC servo motor has been adopted,the running speed and position speed is quickly,precisely. low noise and long service life
4. Terminal tangled thread,direction: vertical or horizontal; Convenient terminal wire disposal: a: snap or cut by scissors; b: fallen into scrap box
5,Easy to change the jigs and programming which has been already saved in machine when you want to change the coil
6,Program type: touch-screen programming,provide man-machine interface teaching system to edit program.
7. Bobbin position checking sensor: check if bobbin is in the right position. If not,The machine timely alarms and shuts down,which can effectively avoid the breakage of the guiding needle.
8.Traverse bar is made of imported die steel,Verticality<0.01mm,parallelism<0.01mm/full-length
Main Process : Automatic vibration feeding ---Winding---Taping---Soldering---Testing