ModelER5012A 12 spindles auto
Model:   Browse:1241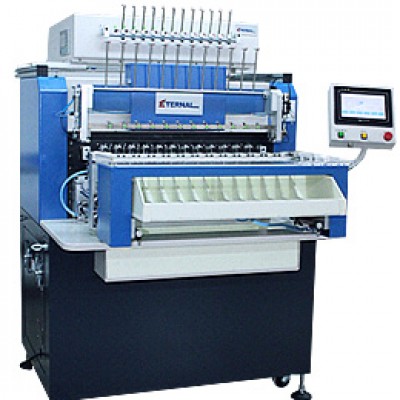 Mechanical properties:
1. The body of machine is made of high quality resin sand senior castings.
2. The machine base uses the steel plate seamless welded,which can strengthen the bearing,reduce noise and vibration,and improve the stability of the machine.
3. Use imported guide ways and ball screw in order to ensure the accuracy of positioning and repositioning.
4. The assembly of high speed main spindle is through the strict quality control,which ensures high speed,low noise and long service life.
5. Use appropriate procedures and replace the jig to change models.
6. The bobbin check sensor can check the bobbins that arent inserted in place. The machine timely alarms and shuts down,which can effectively avoid the breakage of the guiding needle.
Main configuration:
1. Panasonic servo motor and imported guide ways and ball screw
2. Japan's SMC cylinder and koganei pneumatic electromagnetic valve
3. Japan's Keyence optical fiber sensor,Omron photoelectric switch and SMC magnetic switch
4. Japan NSK high speed bearings and Samsung belt
Main characters:
1. As the AC servo motor has been adopted,the running speed and position speed is quickly and precisely.
2. Terminal wrapping angle selectable,vertical or horizontal.
3. Easy to change model: operate the programmed procedure and replace the jigs.
4. Convenient terminal wire disposal: a: snap or cut by scissors; b: fallen into scrap box
5. Program mode: using touch screen to program,provide man-machine interface teaching system to edit program.